Festa del cinema di mare 2019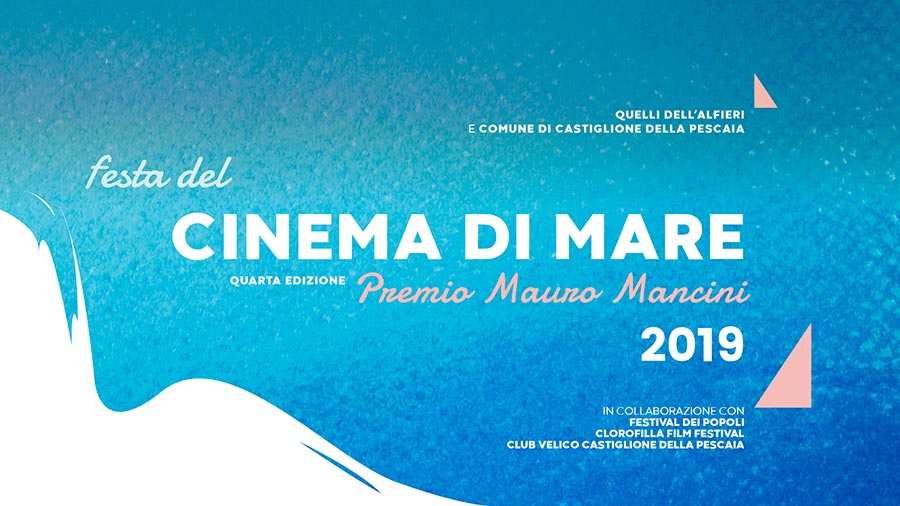 4ª Festa del Cinema di Mare
Premio Mauro Mancini


> BANDO DI CONCORSO
Scopo del premio è approfondire, attraverso il cinema, il rapporto tra uomo e mare nei suoi molteplici aspetti: viaggio, avventura, navigazione conoscenza. Il mare è luogo di incontro di culture e civiltà; elemento naturale il cui equilibrio biologico è fondamentale per la vita; risorsa naturale e risorsa economica.
Tutti temi che furono cari a Mauro Mancini, giornalista e marinaio.
> COMPETITION SPECIFICATIONS
The purpose of the prize is to investigate in more depth, through cinema, the multi-faceted relationship between man and sea; travelling, adventure, sailing, and knowledge. The sea is a place where cultures and civilisations meet: an element of nature, where the biological balance is a key to life: it is both a natural and an economic resource.
Mauro Mancini, journalist and sailor, particularly cared about this.
Linee generali
Il Premio "Mauro Mancini" 2018 viene assegnato solo ad opere europee prodotte dopo il 01/01/2014. I film candidati, documentari, fiction o animazione, non dovranno superare la durata di 40 minuti.
I film candidati saranno giudicati da una giuria composta da critici cinematografici, direttori di festival ed esperti di mare, che stabilirà la classifica finale.
I primi tre classificati saranno proiettati durante le tre serate della "Festa del cinema di mare" a Castiglione della Pescaia (Grosseto) nei giorni 11, 12, 13, 14 e 15 settembre 2019).
Ai registi presenti alla proiezione verrà offerta l'ospitalità (albergo e pasti per un giorno/notte a Castiglione della Pescaia).
Il film che risulterà primo in classifica riceverà un premio di euro 1000,00 (mille) da destinare al regista.
Per la proiezione dei film finalisti non sono previste spese di noleggio.
I film dovranno essere in lingua italiana o, se in altre lingue, in versione sottotitolata in italiano.
I formati accettati per la selezione sono DVD, chiave USB o link protetto (indicando URL e password nel modulo di iscrizione). I materiali inviati non verranno restituiti.
In caso di selezione (primi tre film classificati) per la proiezione in pubblico dovrà pervenire una copia in uno dei seguenti formati: DCP, blu ray, MP4.
Iscrizione
L'iscrizione è gratuita e dovrà avvenire inviando l'apposito modulo entro il giorno 30/05/2019 all'indirizzo:

festadelcinemadimare@spazioalfieri.it

I film inviati per la selezione in formato DVD o in chiave USB ì dovranno essere spediti entro il giorno 30/05/2019 al seguente indirizzo: Spazio Alfieri, via dell'ulivo 6, 50122 Firenze. Nel caso di link protetto, URL e password devono essere indicati nel modulo di iscrizione.
General rules
The 2018 "Mauro Mancini" Prize is awarded only to European films produced after 1st January 2014. The candidate films, documentaries, fictions or animation films must last for no longer than 40 minutes.

The films taking part in the competition will be judged by a jury composed by cinema critics, festival directors, and sea experts, who will draw up the final ranking.

The first three films in the ranking will be shown during the three evenings of the "Celebration of sea-set cinema films" in Castiglione della Pescaia (Grosseto) on 11, 12, 13, 14 and 15 September 2019.

The directors attending the show will be entitled to a free hospitality package (hotel accommodation and full board for one day/night in Castiglione della Pescaia).

The first ranking film will be awarded a prize of €1,000.00 (one thousand euro) to be given to the director.

No rental costs will be payable for showing the finalist films.

The films will have to be in Italian or, if in other languages, they must come with Italian subtitles.

The formats accepted for the competition selection are DVDs, USB keys or protected links (URL and password to be indicated in the entry form). The materials sent will not be returned.

In the case of selection (first three films in the ranking) for public showing, a copy will have to be delivered in one of the following formats: DCP, blue ray, MP4.
Entry
The entry is free of charge and must be made by sending the specific form by 30 May 2019 to the following address: festadelcinemadimare@spazioalfieri.it

The films sent for the selection in DVD format or by using a USB key must be sent by 30 May 2019 to the following address: Spazio Alfieri, via dell'Ulivo 6, 50122 Florence. In the case of a protected link, the URL and password must be indicated in the entry form.